To see 3-8-1 Candles on my site should be no shock to most my fans. I have fell in love with this company since the very first time I started reading about it. You can also check out a little bit more on their about us page just click here. After my first 3-8-1 Candles, I was a goner and ruined forever, I blame it on the owner, Nicki is a perfectionist and one thing she has for sure perfected is her wonderful candles.
The name of her amazing company means
3 words 8 letters 1 meaning = I Love You
Now that is just wonderful no matter when you read it, but with valentines around the corner and everybody feeling all romantic, it for sure hits the spot.

What makes these candles even more appealing to us women, as if we need anymore reasons to buy things that are beautiful and smell good, is inside each 22OZ candle with Jewelry, you will find a REAL piece of genuine Jewelry. No fake costume jewelry inside 3-8-1 Candles ever, Nicki will not hear of any such thing. One of the many thing I love about the owner of this wonderful company, she don't care about anything but quality, and the satisfaction of her customers. I have seen her go above and beyond more than once to make sure anything that isn't up to 3-8-1 standards is not only set right, but she will remove anything that don't meet her quality, trust me she sets the bar high and makes sure nobody dares to even think of lowering it. She has went to working by herself, to now having to take on employees and she makes sure they know what her goals are and what she will never allow.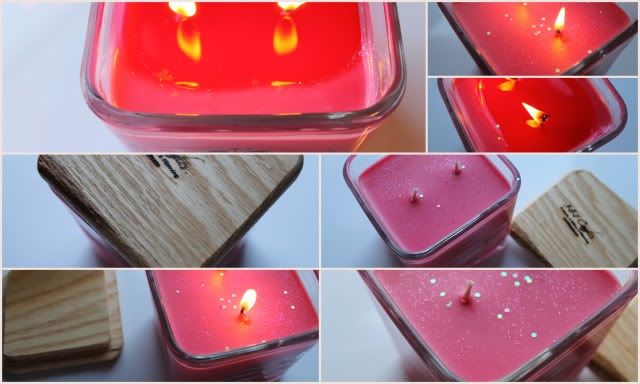 Here is some pictures of what some people have found in their candles, I put some of my favorite pieces on here of course. I would have added a whole lot more, but I ran out of room
These are the two rings I've had the honor of finding in my candles. I have also found a necklace and another ring, I have pictures of them, but I'm in the middle of changing computers and they're on my other computer.
One of you will have the chance to enter to win a Mystery Giveaway candle from 3-8-1 Candles to see for yourself how fascinating and wonderful these candles are.
Sorry open to the  US  only! Must be 18+ to enter.
CONNECT WITH 3-8-1 CANDLES
Website
Facebook
Disclosure:
Kimberly's Thoughts is not responsible for shipment of prize. This giveaway is sponsored by 3-8-1 Candles and is not affiliated with Facebook.